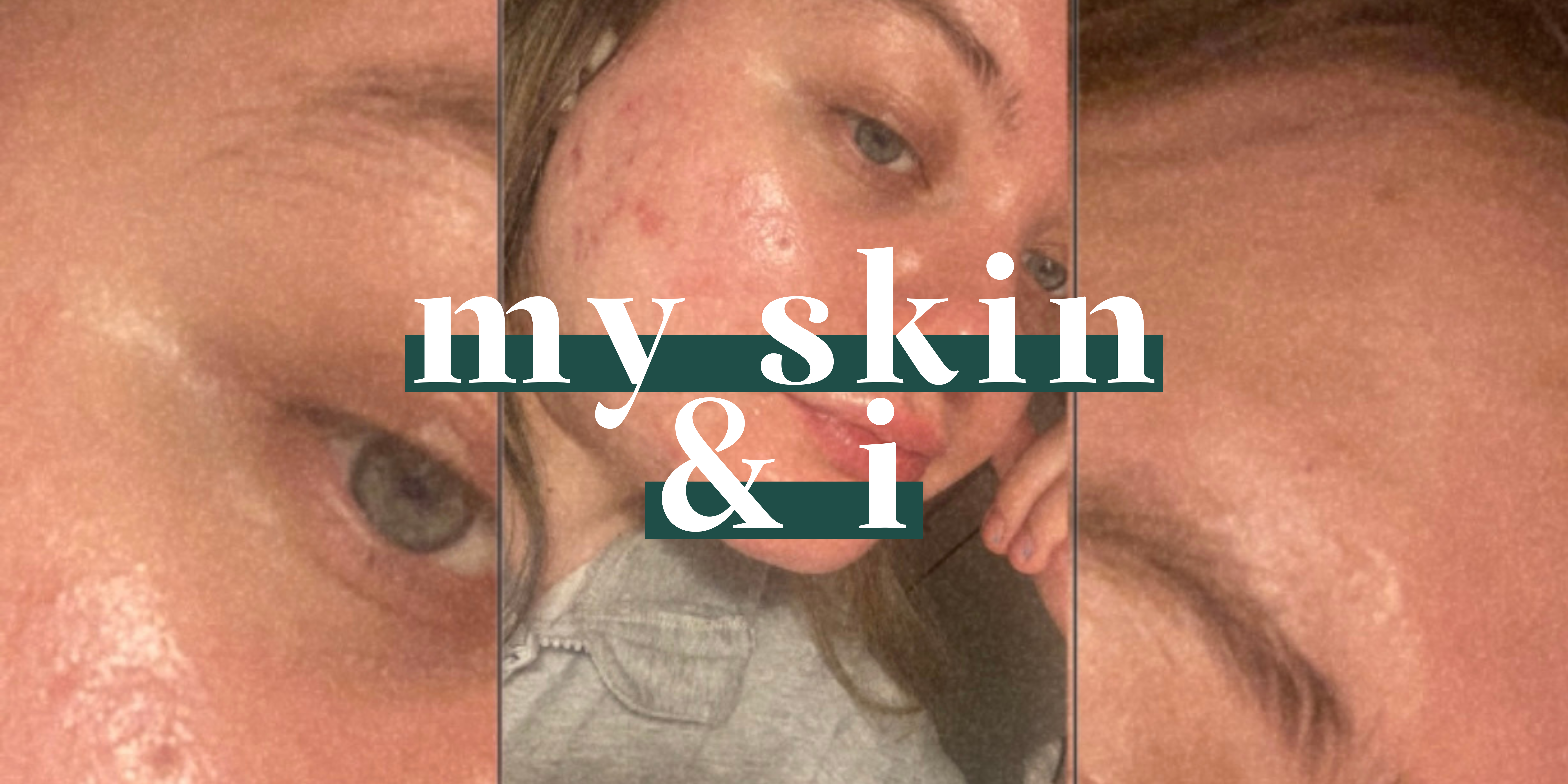 I remember when I was thirteen I used to write an anonymous beauty and fashion blog. Inspired by Zoella, I'd talk about my latest Superdrug finds using my £15 wages from my newspaper round. I really wish I remembered what it was called, we could all do with a good laugh right now. 
I've been wanting to pay tribute to "Beauty Blogger Becky" for quite some time, by incorporating a blog into my website. I've never known quite what to write about. I'm in no way a skincare and beauty expert. However, this year I'm putting more time and effort into researching and learning about skincare, haircare and self-care. 
My skin and I have had a love-hate relationship since for as long as I can remember. I decided that this was the year I learned to embrace it and learn more about what it needs. 
I remember the first time I ever got a spot. It was right on the centre of my chin. I was only about 10. I remember squeezing it until it bled and on all of my holiday photos, I have a big red blotch on my face.
I remember the first time I saw a cluster of spots on my chest and shoulders. "Not MORE spots" I thought. I also remember not re-applying my SPF in 30 odd degree Spanish weather, in the hope that the sun would dry them right out. Apparently, I was fine with blistering burnt skin, just not spots. Anything but spots.
I remember buying a 99p cream contour palette from eBay, and breaking out the worst I ever had. I still have the scarring today which taught me the lesson that just because something's cheap doesn't mean it's a good deal - I certainly paid a bigger price in the end.
More recently, I remember waking up one day and seeing an incredibly angry, sore, painful breakout on my neck. This has never gone away. I remember being asked by a skin specialist if I had been to see a doctor about having PCOS. I didn't think anything of it at the time, but a couple of years later, I'm in the process of finding out if I do actually have PCOS. 
I never cared much about my skin growing up, other than having acne. As long as it was covered up by Esteé Lauder Double Wear Foundation (I'd go through a bottle a month), I didn't care. However, I think like most people, during the pandemic, skincare replaced makeup. I used to be able to sleep soundly just using a quick makeup wipe to clean over my face once, whereas now - if I have make-up on all day I'm just itching to take it off. 
The problem with skincare when I was growing up, is that it wasn't a big deal. You only used moisturiser if your skin was dry and we wanted our anti-ageing products to reverse years of damage. Acne was seen as a teenage issue you'll grow out of and nothing that a tube of medicated cream couldn't fix. 
Growing up, our skin care tips were based on old wives tales. Did you ever put toothpaste on a spot overnight? These days, we're a lot more well informed. We're in an age where information is much more accessible and we want to learn about things that interest us.
It's also great how many skin positive individuals and brands now have a platform. When you're faced with an insecurity like skin issues, it's easy to feel like the only person in the world who suffers from them. I certainly did. It's only recently that I've been comfortable with being seen without makeup on. With social media being a place of acceptance for the most part, or blowing the doors off apps like Facetune, the world is becoming more aware than ever before that it's not okay to face people with the unattainable standards of perfection. Nothing makes me happier than seeing my Instagram and Tik Tok feeds full of real people. 
Skincare interest has increased due to the fact that people want to take care of themselves more. Take Net-A-Porter for example, the best selling category in their beauty department is Skincare and it's continuing to grow by 40% year after year. I don't know about you, but I find that doing my morning and evening skincare routine is my most relaxing part of the day. 
Of all of the bad breakouts I've ever had, nothing quite improves my skin like a consistent skincare routine. As you can imagine, I'm very lucky with this business that I get to try out so many products. I'm always amazed when I come across products that suit and calm my skin completely. This is what has encouraged me to do more research and learn about what benefits different skin types and concerns.
Some of the most effective skincare I have ever used has been from independent beauty brands. You may say I'm being biassed considering I have founded a business on a love of indy beauty - but I've also seen the recognisable difference in the skin of those around me. Skin care isn't a one-size-fits all approach. What suits my skin, may be too harsh for the next person. This is why we find it very important for different people to trial the products for our boxes - who each have different skin types and concerns. 
As well as seeing a difference in my own skin, another huge difference I've seen is on my Mum. Her skin is positively glowing and it's been ever since she started testing products to include in The Indy Box. All of the products that we feature in our boxes have been tried and tested by one, if not all of us. We would never include anything that we've not tried ourselves in our boxes. 
I've already learned quite a lot so far on my journey of immersing myself into the skincare world. Whilst I believe this will be advantageous when working out what products will suit my skin as an individual - it will also benefit the choices I make for products in monthly boxes. 
Whilst I embark on my skin research journey, I want to have a little corner of the internet where I can share it with you - like minded people who love skincare and beauty just as much as I do. You can only share so much on social media - videos can only be so many seconds long and comments can be only so many characters long. So, I'm very excited to live out my youth as a beauty blogger - this time, hopefully with a few more readers than last time!